Welcome CJ!
Inspired by life events.
Why this title to a blog post? Read on…
People say I have a wild imagination. I thought so, too—until I had a premonition of 9/11. (Hear about my 9/11 forewarning at Book Circle Online interview.) That premonition, a vacation, and other life experiences influenced my novel, Project Dream, as much as my sometimes-off-the-wall imagination.
Project Dream delves into prophetic dreaming, but its story is more coming-of-age than paranormal. It follows the lives of three teenagers thrust into unusual circumstances. And as crazy as this world is today, I believe its subject is not far-fetched.
We all know someone who has exceptional perception or unfounded intuition. This book is simply a "what-if" tale. What if the government identified young teens who had a sixth sense, tapped into the unused portion of their brains, and taught them to be more perceptive?
I once interviewed a renown psychic, Anne Gehman, for a freelance article. She said clairvoyance was like playing the piano. Some people sat down and played proficiently, some no matter how much they practiced would only be able to play Mary had a Little Lamb, and others who practiced hard became proficient over time.
With her words in the back of my mind, I wondered. What if young teens were taken away from their homes, enrolled in a dedicated school, and trained intensely? How proficient might they become? Crazy? Or just a twist in an older, real, twentieth-century adult project, the Stargate Program.
I turned the idea over in my head. Where would the government hide a covert program like that?
That's when a vacation trip came into play. I had traveled from Las Vegas, Nevada, to Death Valley, California, and watched a barrage of endless, barren, roads slip by. Along the way, we passed the desolate terrain that bordered Area 51—and Project Dream's site was claimed.
Project Dream is the prequel to my novel, Dream Wide Awake, which tells the story of adults who learned remote viewing as teenagers, so they could protect the country after 9/11. I originally began writing the sequel to Dream Wide Awake but readers began asking what happened before Dream Wide Awake. When the characters were kids in the desert. Hence, my YA novel, Project Dream.
Do you believe it could happen? I never say never. And…some of my beta readers who have read this novel are asking: is this fiction?
Or another one of my crazy premonitions?
What happened to the kids in the desert?

In 2002, the CIA forced several teenagers out of detention centers and into a National Security Test Program called Project Dream. Teens selected had two characteristics: physical superiority and a sixth sense.
When the awkward, unpopular, and destitute Izzy Jimenez is caught stealing clothes, authorities enroll her in the program for two reasons: Izzy swims like a fish—and she sees angels.
There she studies and works hard to perfect her clairvoyance hoping authorities will allow her to go home. But when she and the other students master remote viewing and produce results that stun White House officials, additional children—good kids from normal American families—are recruited. Izzy's hope of going home dwindles.
Not until the striking, charismatic Rachel Callahan arrives and befriends Izzy does her life become bearable.
Project Dream is a coming-of-age story of teenagers thrown into the most unusual circumstances. Each struggle to survive their time in the desert with the goal of getting out and going home, but—can any of them really go home?
Now for a SPEED ROUND with CJ:
CJ Zahner
Top: Reading in an LA library.
Bottom: On the road to Death Valley.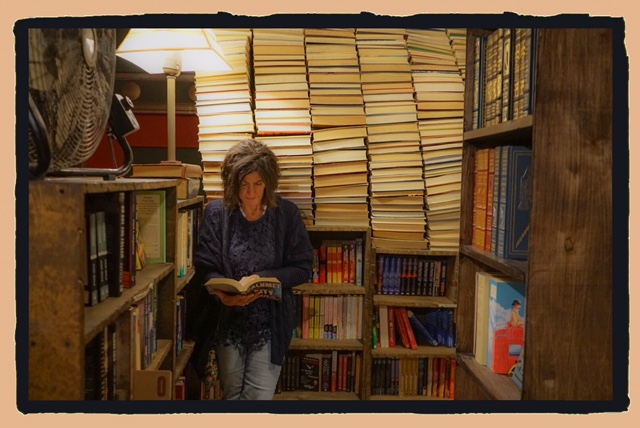 FIND CJ:
Website/blog:
Social Media links: